Bitcoin moving in the mid and high range of $30,000. At the time of writing, the first cryptocurrency by market cap is trading at $37,347, with a 2.8% gain on the daily chart and moderate losses on the higher time frame.
BTC price was rejected at $38,000. This level has become a major resistance and must be overcome if the recovery is to be successful. Anonymous analyst Recht Capital believes that further downside may occur in the coming weeks, as BTC price action indicates the formation of a "death cross".
This indicator appears when BTC price is trading below the 50 exponential moving average (EMA) below the 200 exponential moving average (EMA). They are the opposite of the "golden cross", an indicator that points to appreciation and is a sign that the bulls will retake the offensive.
With a "death cross", as the analyst put it, there is usually a broad drop in the price of BTC. During the bull run of 2013, it took 135 days or about 4 months for bitcoin to build up to this indicator. Meanwhile, the price declined by 73%. Rect Capital said:
Death Cross happens with some lag so by the time it happens – a lot has already happened. That said, the death cross confirms a bearish trend and is preceded by even more downside. And in 2013, before Death Cross dropped an additional -71%…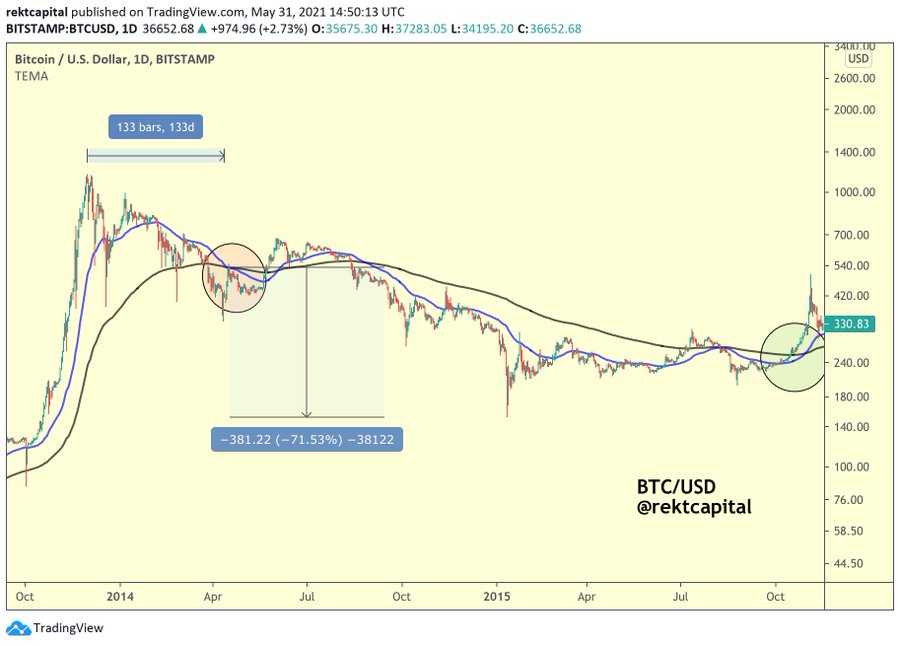 bitcoin is Bear Market imminent?
Therefore, the price of BTC may continue to decline in the near term. This has historically happened several times during 2013, 2017, and 2019 and coincides with the local top. The average period for the formation of this indicator is from 107 to 149 days.
If the analyst is correct, the "death cross" should occur in late July and early September of the current year, as seen in the chart below. A third scenario shows the formation of this indicator for the current month, said Rect Capital:
Right now, the 50 EMA (blue) and the 200 EMA (black) are converging towards each other. If BTC does not increase its price soon and the EMA continues at the same current pace… Death Cross could happen soon in mid-June 2021 (Blue)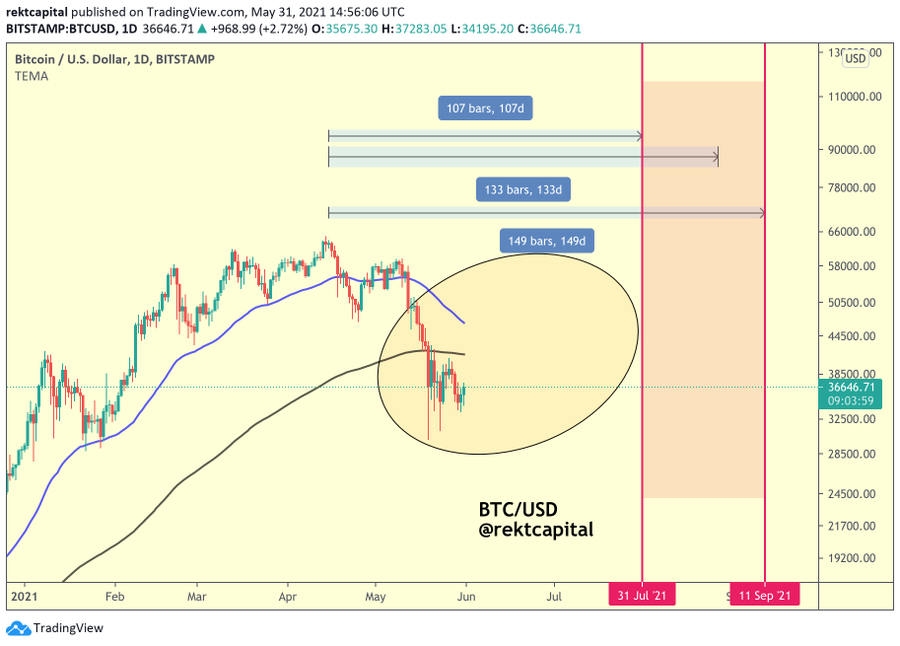 On average, during the "death cross" event, the price dropped by about 60%. This is why Rekt Capital concludes that the 54% drop in the price of BTC is part of the pre-death cross period. If the theory holds true, a further downside could be seen near the $18,000 level for BTC.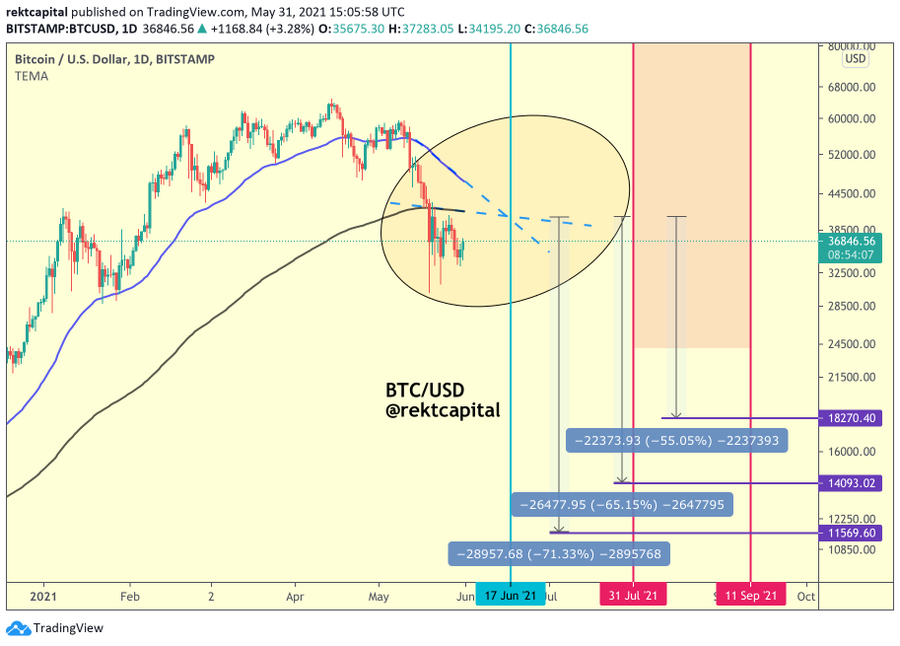 Also, this scenario may be most profitable for investors who seize the moment.
However, the interesting thing about the -55% scenario after the death cross crash is that it would result in $18000 BTC. Which ties in with the 200-Week EMA (Black), providing a great opportunity for #BTC investors with a large ROI (Green Boxes highlight this)